Feb 24, 2022
NTUC e2i's Place and Train Programme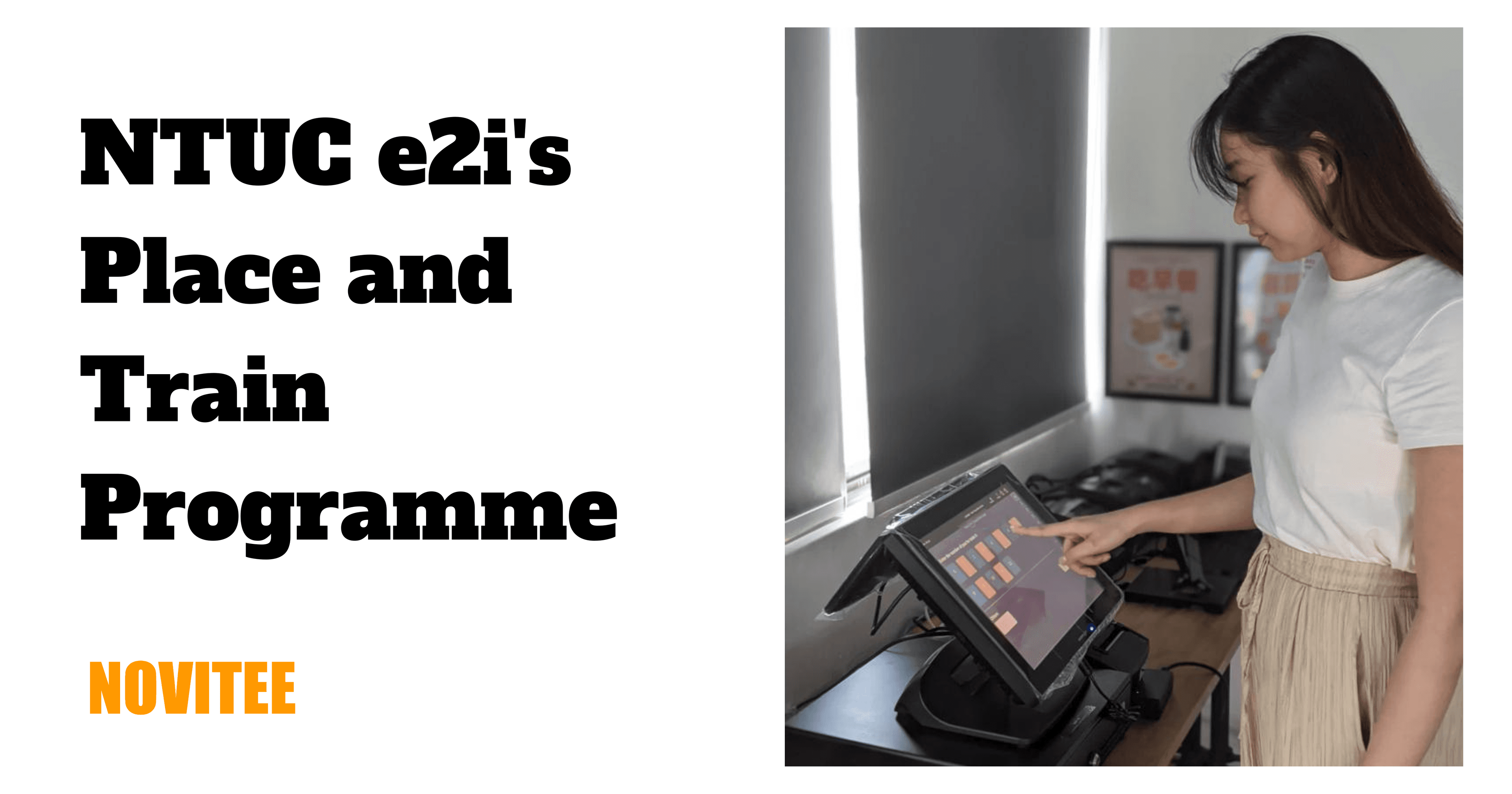 Find out more about how Adeline benefited from NTUC e2i's Place and Train programme.
Meet Adeline, Novitee's Senior Tech Product Manager. She is one of the many individuals in Singapore who have successfully switched careers and flourished in a whole new industry, thanks to the help of NTUC e2i's (Employment and Employability Institute) Place and Train Programme (PnT).
The Place and Train Programme, is now known as the Career Conversion Programme (CCP). This programme is the result of a partnership between NTUC e2i and various industry associations, employers and unions coming together to help train and equip mid-career job-seekers with the required skills to enter a new industry. Companies that take part in this programme are able to hire new employees who lack the necessary skills and then offer them a structured on-the-job training programme to help them acquire the necessary knowledge and skills.
With the help of this programme, e2i is able to address the labour shortages that exist across a number of industries and bridge the skills gap that exists among job seekers looking for employment in another industry. In addition to assisting individuals, NTUC e2i also links businesses interested in participating in the CCP with the appropriate agencies and training organisations.
Previously, Adeline worked as a commercial investigator for 2 years. She decided to leave her job and began looking for a new role in the technology industry as she wanted a change in environment and to put what she had learned during her diploma in business IT to good use. However, she faced difficulties trying to enter the technology field as she did not have any relevant experience. That was until she came across the job posting of Novitee, which was a F&B technology solutions company.
Adeline responded to the job posting and eventually got offered the job as a business analyst, despite not having any relevant experience. This was largely due to the fact that this job was part of the Place and Train Programme that Novitee had participated in, which therefore made them more open and willing to accept an applicant who lacked the relevant skills or knowledge.
Adeline was hired and placed on the Place and Train Programme. Throughout the training period, she was even mentored personally by both the company's CEO, Benjamin Yang, and CTO, Vincent Tay.
In the initial stages, she was asked to attend meetings with clients together with Novitee's CTO. After every meeting, Vincent would share what the main points and objectives of the meetings were and the important considerations to keep in mind during such meetings with clients. Even though it was challenging and stressful to attend these meetings without the technical knowledge to fully understand and comprehend what was being discussed, she was able to learn a lot after every meeting and was eventually able to contribute and run these meetings on her own as time passed.
After learning how to manage client expectations and client meetings, she then went on to the next phase of her training, which was to learn to design solutions based on what was discussed during the meetings she attended. With the help and support of Vincent, she soon learned how to conceptualise the software development cycle and how to effectively communicate the client's requirements for the software to the company's developers.
Besides being personally mentored by Vincent, Novitee's CEO also played a huge role in Adeline's career progression. According to Adeline, Benjamin was always willing to help her and the team, and he played more of an advisory role in her career, whereby he would help her with useful insights based on his experience and provide suggestions on how to improve the user journey of her proposed solutions. He would always guide her in terms of how to better sell the solutions from a business perspective and how solutions could be further improved to benefit clients.
After the training ended, she continued to perform and was promoted to Senior Business Analyst. It has now been almost 4 years since she first joined the company, and she is now the Senior Tech Project Manager of Novitee, managing a team of developers who are situated in Novitee's Myanmar office. 
When asked how the training and mentorship from both the company's CEO and CTO had contributed to her career, she said that it was because of the training that she received from her bosses and their constant support and patience that got her to where she is now. 
Adeline has also shared that she is grateful to be part of the program as it is the reason she has advanced to where she is now in such a short period of time and is enjoying her present work and its responsibilities. She hopes that more companies will come forward and participate in the program so that more people will be able to smoothly and successfully transition into a new industry despite the lack of relevant skills or experience required.
The program has benefited both Adeline and Novitee as it helped with Adeline's career progression while compensating Novitee for the opportunity cost associated with training a worker who lacked the necessary skills. Adeline's participation in the program also led to her receiving a pay raise and a promotion.
If you are an individual or a company who would like to find out more about how you or your company can take part in this Career Conversion Programme, head over to NTUC e2i's website today.