Feb 24, 2022
National Day 2022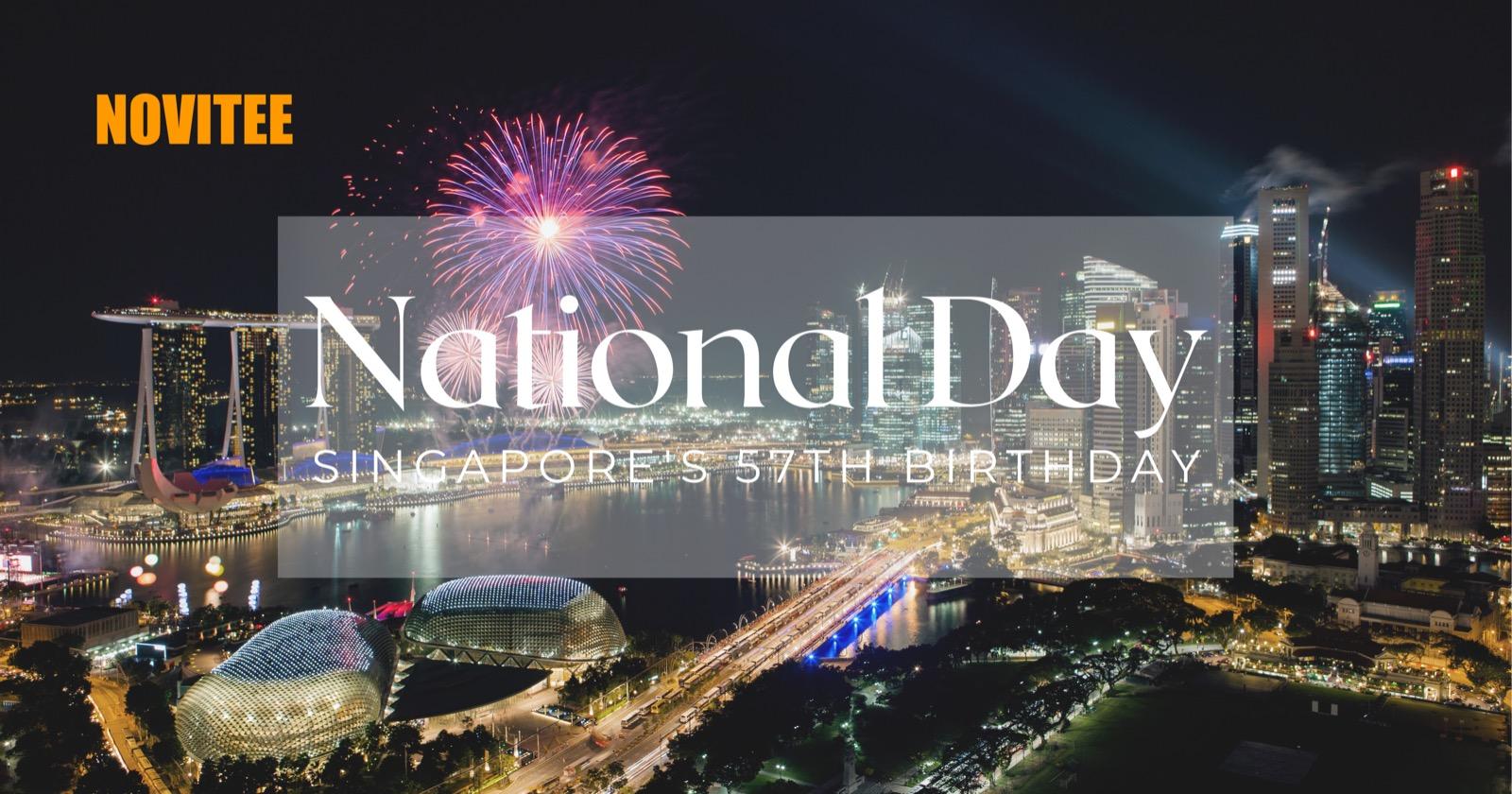 Find out ways in which F&B businesses can effectively maximise profits for this year's National Day.
It is the annual red-and-white season again with the National Day Parade (NDP) just around the corner. After a two-year hiatus, Singapore's finally bringing the parade and all the works back in person! Some highlights include fireworks in the heartlands of the city and at the Float @ Marina Bay, F-16 fighter jets flying across the country, and various other performances and events. The celebratory mood usually starts just before August and peaks on the week of August 9th and sometimes lasts till the end of the month – giving businesses lots of opportunities (and reasons) to throw their promotions to the mix!
As an F&B-focused technology solutions provider, Novitee has had the privilege of working with a wide range of brands, and we would love to share some ideas on how your business can leverage this joyous occasion to attract more customers to your establishment:
1.Get Creative with the Numbers "5" and "7"
This is a classic strategy that you can easily adopt and adapt with each year's National Day. Consider offering discounts and bundle prices using the numbers "57" – such as $5.70 menu items, $57 family meals, or even "buy- 5-get-7" for drinks or small takeaway menu items. Be creative with how you dangle the carrot and play around with the permutations so people will start to notice your brand and be enticed to give your establishment a try. More importantly, keep the promotions valid for a limited time to nudge and remind customers to make a purchase before the promotions expire!
2.Create National Day Themed Specials
There is no better way to show your patriotism than to create menu items especially for National Day! A possible idea would be to come up with red and/or white menu items because nothing screams national day more than the colours of our flag. A similar concept for reference would be foodpanda's recent "Paufect Exclusives", which are eight exclusive pink food items that were only available for the month of June, and were the results of collaborating with eight different brands available on foodpanda. It was an interesting and effective way to promote their brands as it managed to get people's attention – especially since the food items were so social media-worthy!
3.Go Local with Your Dishes!
Promote popular local dishes at a special price or introduce a twist to a local favourite to match the National Day theme! The sky's the limit, so never be afraid to try! In April this year, Takagi Ramen introduced a Chilli Crab Matcha Macchiato drink that used actual Chilli Crab sauce as its ingredient. Such unique flavour combinations will definitely pique your customers' curiosity and might even earn you some media coverage! So roll up your sleeves and start 'local-fying' some of your menu items!
4.Maximise Your Capacity with Reservations
Encouraging early reservations will not only help to better manage the crowd and cut down on waiting time, it will also give you a rough idea of how crowded it will be so that you can plan the manpower accordingly. Additionally, if you notice that your capacity is not maximised, you can increase promotional activities such as offering a free commemorative item or food item for the first 57 reservations made before National Day!
5.Do a Limited Edition Giveaway!
Throw in a limited edition collectible that can be purchased or obtained with a minimum spend or by purchasing specific menu items in the month of August! A successful example of a special National Day collectible would be McDonald's SG50 Hello Kitty Collection where consumers were only able to purchase a limited edition plush at SGD $5 with every purchase of an Extra Value Meal. This greatly increased their sales and generated a hype around their business. By introducing something that people can collect and keep as a memento, you are giving them another reason to head to your establishment this National Day. Not forgetting the hype this can generate on social media as well!
Besides these strategies, we also have some tips and tricks for social media engagement this National Day! It is important not to forget to communicate your promotions and business implementations with your followers as well as potential customers!
Remind People About the National Day (Long) Weekend!
As the National Day public holiday falls on a Tuesday, most schools would hold their celebrations on the Monday before. For those working, it would also be enticing to take a day off on the Monday before so as to have a long weekend. Leverage this to create social media posts suggesting how your establishment is able to provide a cosy and relaxing environment for a good meal over the long weekend!
2.Don't Forget About Those Who Prefer to Stay Home!
Not everyone would be keen to head out to the crowds over the National Day weekend and some would prefer staying in to watch performances on the television instead. Target this crowd by having takeaway or delivery promotions and be sure to communicate this on social media! Start this process early and throw in early bird discounts to lock in your customers!
3.Tap on the Power of Reviews!
With new seasonal menu items specially created for National Day, it is the perfect opportunity to gather some hype around it! Invite some influencers to come down for an exclusive tasting and have them post about these unique flavours on their social media channels. Remember to include influencers from various communities – for example, mum-flucers would be perfect to draw in the family crowd while expat influencers could potentially draw in other expats looking to try local flavours in new creations!
4.Nudge Your Customers With Time Sensitive Promotions
Remind potential customers about the expiry of your promotions or seasonal menu items on social media!When discounts or promotions are constantly ongoing, it does not give people a reason to rush down to your establishment to get it. In fact, people might think that there is no reason to go out of their way just to get a deal that is always available, unless they are nearby or if it is to their convenience. Therefore, by changing it and adding an expiry to the promotion, it gives them a nudge and reminds them to try it before it is gone.
5.Align Menu Items or Promotional Messages with This Year's NDP Theme
The theme for national day changes each year, with the theme this year being "Stronger Together, Majulah!". According to its official website, this year's theme is a call for all Singaporeans to forge ahead as a united and strong people towards a better future. Therefore, you can align your establishment's social media messaging, store decorations, packaging, and even menu items to meet this year's theme and show your support!
These are just some of the possible ideas F&B businesses can take into consideration for National Day this year, and we hope that this national day playbook will be helpful in increasing sales for your business during the National Day period!